We all have our mother's or grand- mother's beautiful saree collection that none of them wears. Moreover that stuff is so intricate and expensive that they would not want to give away easily. When I got down to open my grand-mom's wardrobe shortly after she passed away I can't start to tell you what amazing clothes I saw. She had saved her wedding saree and a lot of other sarees in designs I would not know of. With a few I loved the colors, with a few others I loved their borders and a few were made of such material which had not spoiled in so many years. I had the privilege of getting her wedding saree and all of you know what will be my next pick for a friend's wedding.
Some clothes get dirty with time or some times a light color would not look as vibrant as it did earlier. The best thing is to go your dyer and dye it in a darker shade. It is advisable to keep the color family same for best results or else you could go with black. One can never go wrong with a sexy black saree.
Even if you pick up your an old saree I still insist on getting a new blouse. Even if you fit in it might not look as stunning. Opt in for a contrasting print with a plain saree and get it designed with the best back neck and add a latkan with a deep back to add oomph.
If you are absolutely not sure of the print combination you can go for the evergreen silver or gold depending on the color of work your sari has. Or you may just get a smart golden and silver blouse to avoid any confusion when you are borrowing sarees from anyone.
A border can be your savior when you are trying to renew an old sari go to market and pick up a printed border. Since floral and tie & dye is quite in you can go for the same border blouse combination to complete the look. It can help you add bling to a plain saree.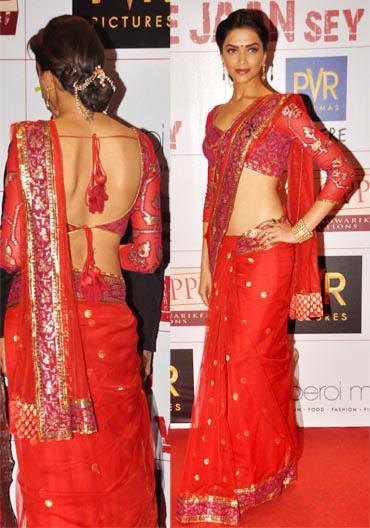 A stitch in time can save nine, literally when you fee you need to add glam to the old sari go for a different stitch. You could get the palla and get it attached to an entirely different fabric to create a new look. Half patterns are still available in the market and stitching also means no draping
When I picked up my grand-mom's saree I went ahead and got a sexy golden blouse and brought life to the purple golden sari.